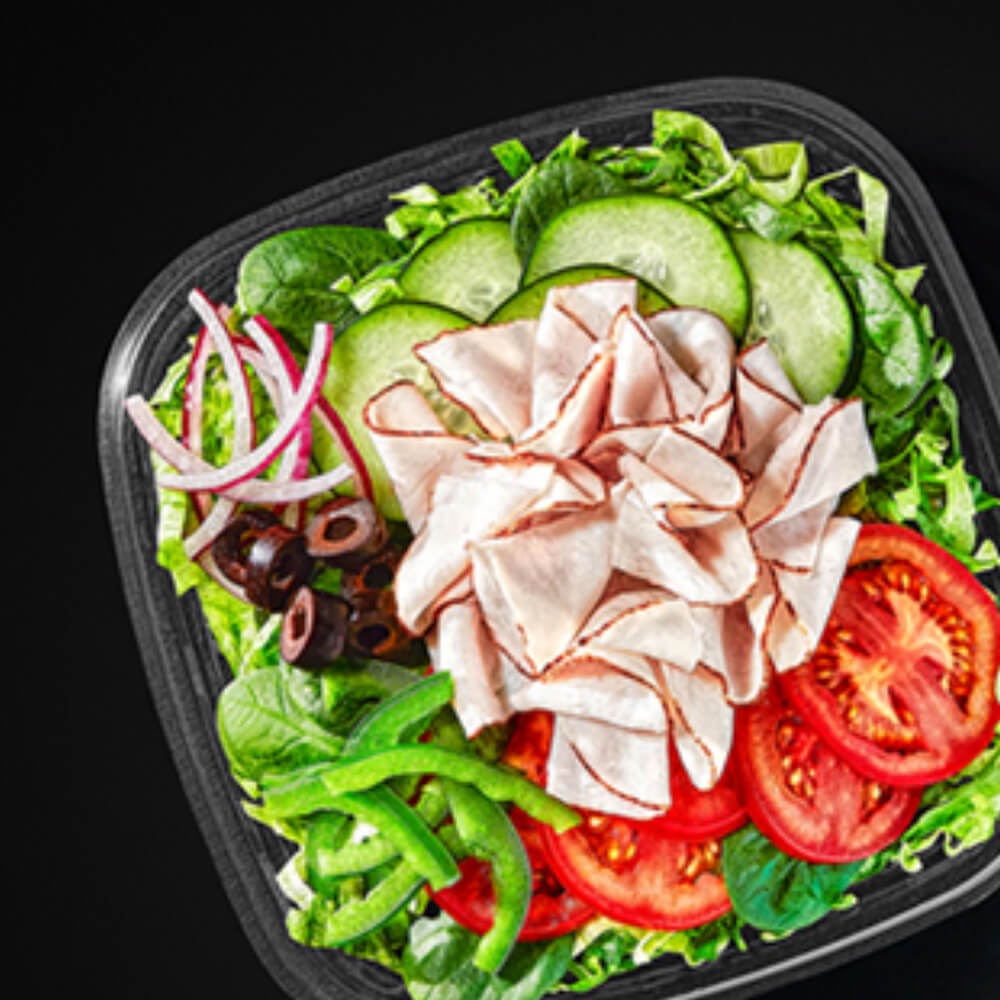 Oven-roasted Turkey & Ham
Thin-sliced Oven-roasted Turkey and Black Forest Ham with crisp lettuce and many more of your favorite veggies.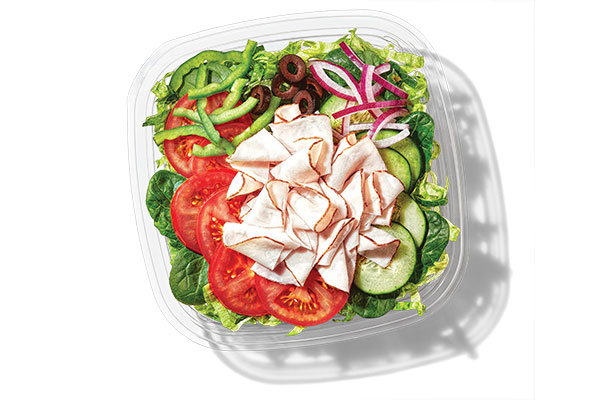 Oven-roasted Turkey
The Oven-roasted Turkey Salad is a go-to salad choice. Our premium, thin-sliced Oven-roasted Turkey, tossed together with lettuce, crunchy veggies and whatever dressing does it for you. Simply the best.
Grilled Chicken
Beautiful in its simplicity. Tender Grilled Chicken on a bed of fresh lettuce topped with tomatoes, red onions, cucumbers, green peppers and black olives. Perfection.
Italian B.M.T.®
The Italian B.M.T.® salad is the salad version of our popular sub. Crisp greens topped with Genoa salami, spicy pepperoni, and Black Forest Ham. Meaty deliciousness, all in a salad.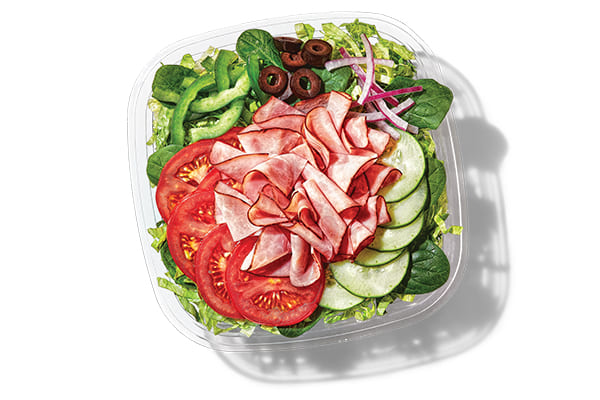 Black Forest Ham
The Black Forest Ham salad is a flavorful way to enjoy a Subway® favorite. Sliced ham, lettuce, and a pile of your favorite veggies - all tossed with your choice of dressing.
Buffalo Chicken
Grilled chicken topped with Frank's RedHot® Buffalo sauce, with lettuce, spinach, tomatoes, cucumbers, green peppers, black olives and red onions. A drizzle of peppercorn ranch dressing cools the spice. Very nice.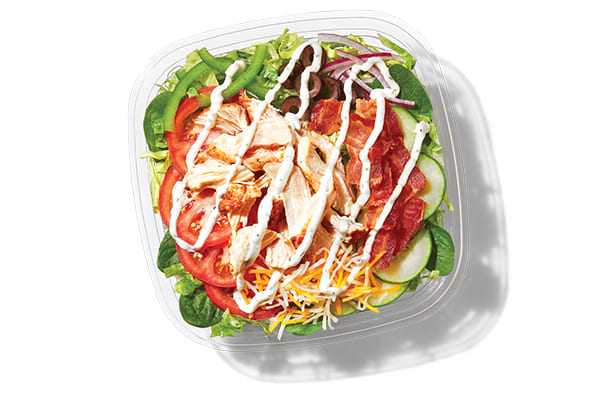 Chicken & Bacon Ranch
Rotisserie-Style Chicken, Monterey Cheddar Cheese, and Hickory-Smoked Bacon, all on a bowl of greens and topped with Peppercorn Ranch. Because sometimes a garden salad won't do.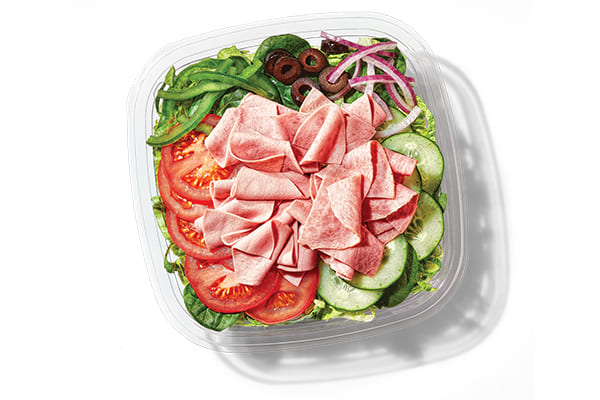 Cold Cut Combo®
The Cold Cut Combo® salad has ham, salami, and bologna (all turkey based) tossed together with crisp lettuce and your favorite veggies. Mix it up with whatever dressing you love best.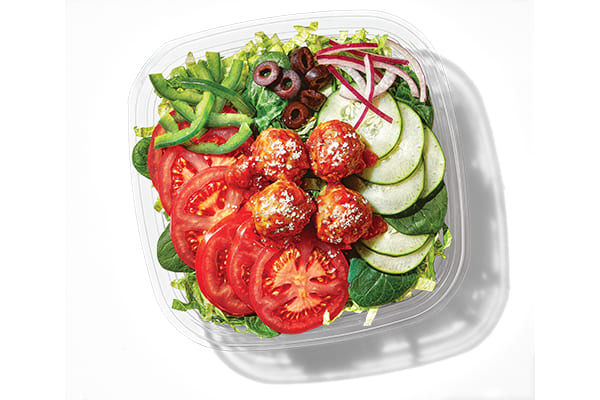 Meatball Marinara
The Meatball Marinara salad is the ultimate cravings crusher. Hot Italian-style meatballs in marinara sauce and a sprinkle of Parmesan cheese, all sitting on top of your favorite greens and veggies. Yes!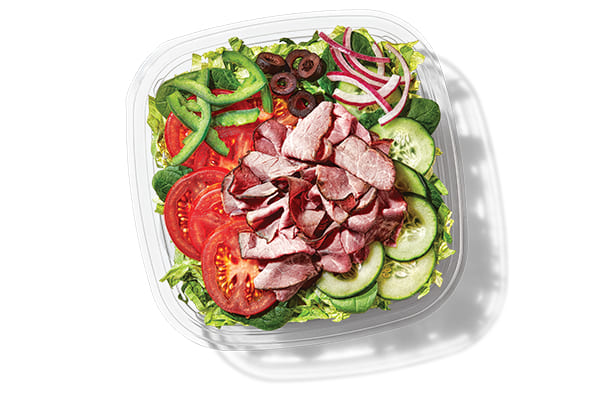 Roast Beef
Level up your salad with NEW Choice Angus Roast Beef and a whole lot of crisp veggies.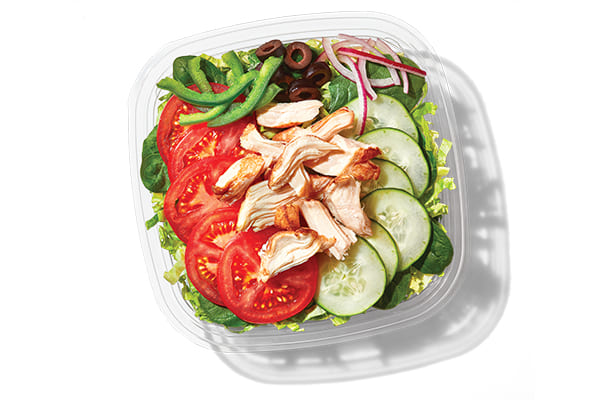 Rotisserie-Style Chicken
Juicy rotisserie-style chicken is mixed with fresh lettuce, tomatoes, cucumbers and other veggies of your choosing. We'll even let you choose your dressing. We're good like that.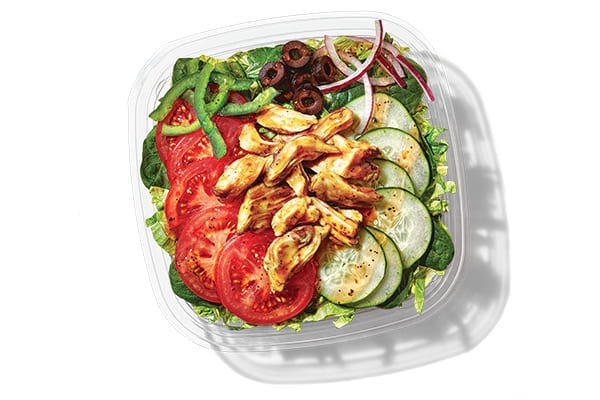 Sweet Onion Chicken Teriyaki
The Sweet Onion Chicken Teriyaki salad has so much flavor that it may turn into your go-to meal. It starts with crunchy veggies—lettuce, tomatoes, cucumbers, green peppers, black olives, and red onions followed by our juicy, grilled chicken strips that are topped with our delicious NEW Sweet Onion Teriyaki Sauce. It's one sweet and tangy tasting salad.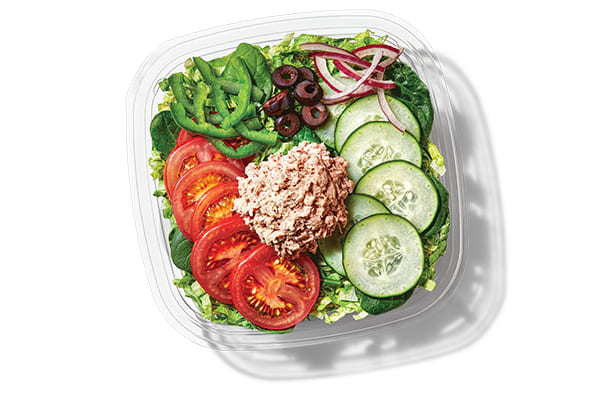 Tuna
Our Tuna salad is simply delish. It's 100% wild caught tuna mixed with mayo, riding high on top of a bed of crisp lettuce and veggies. Classic for a reason.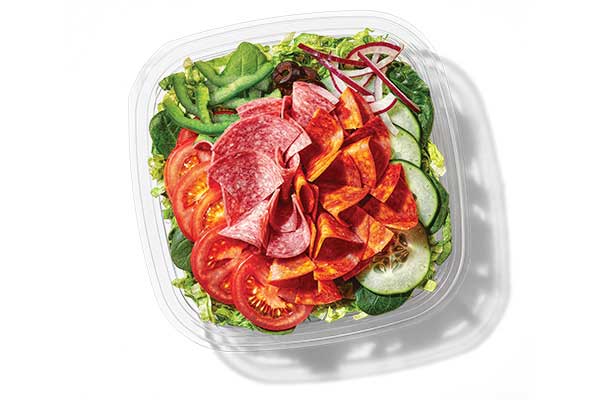 Spicy Italian
Our Spicy Italian salad is a combo of pepperoni and Genoa salami. Basically, the ideal Italian sub, but transformed into a salad. Genius, right